GUESt ARTISTS
Stephen Hayes
Beatriz Ramirez
Randy Wollet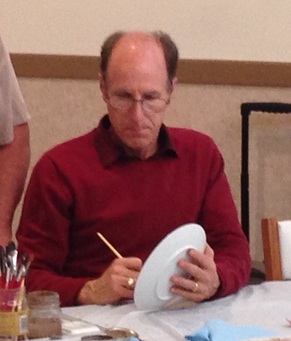 Randy comes to us from the state of Wisconsin. He has an incredible talent and a humble personality. You will enjoy learning from another fantastic artist. Randy specializes in birds, flowers, and fruits.

---
San Do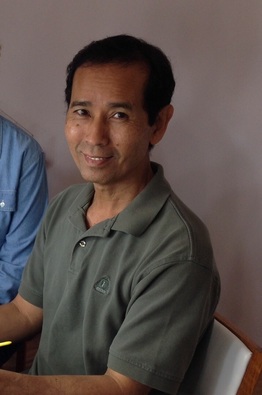 ---
Susan Thumm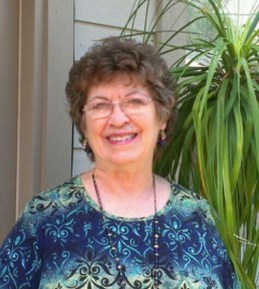 Susan is a retired teacher of 36 years. Art has been an intergal part of her life since she was old enough to hold a pencil. She has taught seminars in 5 states and has been honored as the featured artist numberous times at conventions and shows. Susan is a resident of the great state of Texas and will be sharing her skills here in Nebraska to make us #6 state the spring of 2015.
---
Michael Turner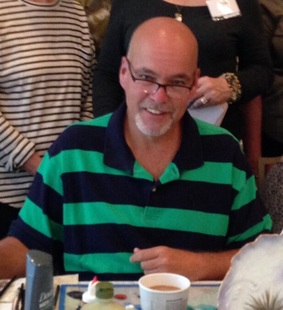 ---
Celee Evans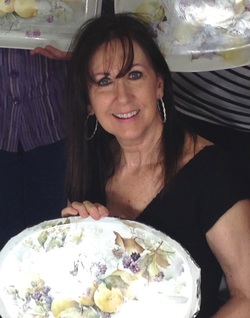 Earning a degree in English in 1967, Celee Evans transitioned from teaching high school to teaching porcelain painting in the late 70's. Known primarily for florals and fruits with unique background shadows, she is comfortable designing the tiniest box or the largest punch bowl! She is a faculty member of many US Porcelain Painting Schools and loves teaching internationally, too.
Celee's home studio near Yosemite is constantly bustling with activity. Students from around the country come to paint in the "Sierra Seminar." Celee paints murals and she designs and creates large commissions for Silicon Valley clients. She receives inspiration for her new designs from simply peering out the studio window at the deer crossing the creek or the flock of geese in the pasture.
Celee attributes her fulfilling professional life to a relaxed but challenging teaching style, a passion for porcelain shared by other china painters, and an artistic eye inherited from her grandfather. Most of all, she acknowledges the loving team spirit of her husband Bryce, with whom she celebrated 36 years of marriage in February 2009.


---
Nancy Bergman
"Thought provoking, colorful, clever, cute....well that's my art!" says Nancy Bergman. Nancy has been an artist for many years and always tries something new. She has tried food art and ice art, fiber art and garden art, but always comes back to porcelain.
Nancy graduated from the University of Minnesota with a major in History and Costume Design and minors in Business and Art/Design. She painted porcelain with her mom and sister since1976 and picked up a few techniques from them. Over the years there have been many instructors that have shared their skills with her, and she intends to share what she has learned with many painters to follow. She learns something new from everyone.

---
Paula White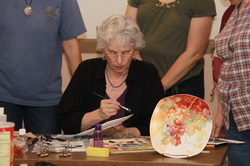 Paula has been a teacher and artist for over 35 years. Her style ranges from naturalistic to abstract expressionism with vibrant colors, expressive movement, and creative energy. A native of Roswell, NM, Paula began painting with oils and acrylics in the 70's then moved to porcelain art. She has been teaching workshops and seminars since 1976.
---
Mary Gosden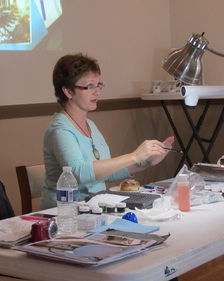 Mary lives in New York near the "Big Apple" with access to beautiful buildings and magnificent sky scrapers. The architecture there inspires Mary to paint unique designs like no other you will see. She has been drawing and painting her entire life. She started painting on porcelain in 1996 and has been teaching since 1997. Her love of art deco and architecture has brought a fresh perspective and approach to porcelain art worldwide. Her seminars and school commitments keep her busy traveling throughout the US and Canada. In 2014, she will be adding Europe to her teaching agenda. She is a happy New Yorker and lives with her husband and son, both of whom are artists.
---
Marty Hill
I began painting on porcelain in 1995, after seeing a portrait painted by my friend and teacher, Peggy Adams. I knew immediately that portraits were what I wanted to paint, and I began taking lessons. I was a hairdresser at the time, and could only paint one day per week. In 1998, I made the decision to retire from that career and focus full time on painting.

I have been fortunate to study with San Do numerous times as well as take additional portrait classes from Jane Marcks, Ona Lee Crocker, and Joan Schulte. I began teaching in 2000. I teach seminars and teach at porcelain schools around the United States. I have been associated with the WOCP Art Institute since 2000. I am currently the Teacher Director for WOCP overseeing the Art Institute in Oklahoma City for 2010 and 2012. I also am an active member of IPAT and PPAA.

My main focus is portraits, but I soon learned it is important to be able to paint and teach a variety of subjects, including fruits, vegetables, flowers, animals, and landscapes. I still use my portrait technique when painting other subjects so that the picture takes on a photo-realism. I like to paint from photographs because this captures more of the personality of the individual.


---
Mary Ashcroft
You might say that we take painting personally. For more than 30 years, our message to the customer/student has always been: Personalize it. Customize it. Make it your own. You may be ready to paint an heirloom, a one-of-a-kind keepsake, an entire dinner set, or that one perfect painting for the wall that you have been looking for. Whatever it is, we are here to make it happen just the way you like it.


---
Vida Klocke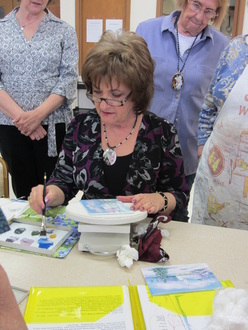 Vida's interest in art began in elementary school. After earning degrees in commercial and graphic art, Vida pursued a career in the graphic arts. Porcelain painting became her hobby in 1980 and soon developed into a passion.

Working from a home based studio, Vida began teaching porcelain painting classes locally in 2005 and currently teaches workshops in many states. In 2010, she was chosen to display her porcelain art in the offices of the North Dakota Governor and the First Lady in the capitol building in Bismarck, ND. This was the first time porcelain had been chosen for the display.
---
Diane Schroeder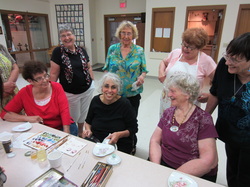 Diane is an accomplished porcelain painter and instructor who likes to describe her art as "sophisticated whimsy." A China painter for over 30 years, she has given seminars through the World Organization of China Painters. Diane creates finely decorated china along with porcelain hand-painted pins, pendants, and specially decorated art on wooden tins.
---
Kathy Lewis

A long time china painter living in Adel, Iowa, Kathy Lewis partnered with Jane Wright to travel the county teaching students to paint on porcelain by tag teaming their efforts. Together they taught students ultimate attention to detail when they paint. Kathy teaches in her home as well as on the road at many conventions. Kathy has a fondness for flowers and is an expert in roses. She makes painting look like a breeze. Kathy was born with a brush in her hand. She is a patient and gifted teacher.

---

Jane Wright

I grew up in Southwest Iowa. As a small child I was always drawn to art and continued to find different arts as I grew up. My mother-in-law was a china painter in the 1970's. I just could not believe someone could paint something so beautiful on china. My husband always insisted that I too could paint, but I was sure that was beyond my talents. One winter day, a flier from Community Education came. It listed classes for "China Painting," and he registered me for the class. Kathy Lewis was the instructor. She became my friend. One of the wonderful benefits of china painting is the great people you meet and become close friends with. I have studied with many wonderful teachers. I would encourage all new painters to paint with as many teachers as they can to determine their style of painting. Your painting will change as you learn to master your brush and pick up different styles from the teachers. What an adventure it is to learn what colors, brushes, and mediums fit your style of painting. Once you have found your style, others will start to come to you for advice. My first learning class was in 1997 and my first teaching lesson was in 2003. I still enjoy studying with different teachers. I believe we never stop learning. Teaching is my passion, but meeting so many wonderful people is my reward! I've had the privilege of teaching in many of the states in America and have met some wonderful painters. It has also been an honor to judge porcelain painting at many state fairs and state conventions. My desire is to help all students to understand a method of learning the art of porcelain painting and to encourage them to share their talent with others. x I find this art has many avenues and everyone will find something they enjoy in painting.


---
Peg Pelter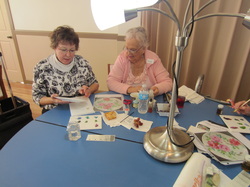 Peg started china painting in 1976 as a hobby. In 1981 she established her studio in Lincoln, NE, and began participating in arts and crafts shows. She is activitiely involved in china painting organizations and has published a number of articles for china painting magazines. Peg has worked with international students and has taught many seminars.
---
Virginia Barnes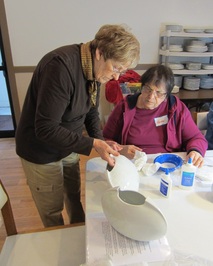 Omaha's very own Virginia Barnes followed in the footsteps of her mother and grandmother who were china painters. She is an accomplished porcelain artist with over 35 years of painting under the direction of some of Omaha's finest teachers. Virginia began teaching full time 5 years ago and had students on a waiting list to enroll in her class. She is now venturing out with fiberglass and unique techniques to add to her portfolio.
---