Welcome
"Art washes away from the soul the dust of everyday life."
Pablo Picasso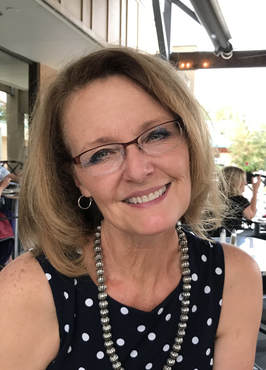 Hello. I am Joni Van Dyke, and I am proud to finally call myself an artist.
I have been described as a "prickly purple bull thistle blooming splendidly in the quiet green of our family farm." Yes, I was born on farm in the quiet town of Humphrey, NE, where the green of growing things translated into the green of financial security for a practical family of nine. For as long as I remember, I saw the world in colors, pictures, decorations, and accessories, while my family focused on the necessities for financial security. As a child I begged my mother to send in my drawing to the magazine advertisement which would tell me if I had potential in art. She never did. When I was in middle school, I said I wanted to go to art school. I was told that I couldn't make a living in art. After irritating my family with foolish dreams throughout high school, I gave in and went to college to earn a Bachelor of Science degree in home economics, so I would have a practical subject to teach in school. I even made it half way to a Master of Science degree in guidance and counseling to secure my position as a teacher and have a career "to fall back on." All the while the heart of an artist beat inside me.
As an adult today, I look back, only to appreciate my past. I realize now that my family's practical values are the rock-solid foundation on which I can build my career as an artist. In 2008, together with my daughters Molly and Rachel, I opened Arbor Hall, a wedding and special event facility with an outdoor garden. Arbor Hall specializes in flowers, cakes, banquet food and drinks, and any accessories required for weddings and important events. At Arbor Hall we are able make an adequate living while creating an artistic experience with food, flowers, music, and photography to delight our guests. Recently my daughters have taken over the management of Arbor Hall, and I am free to develop my skills as a porcelain artist.
I fell in love with porcelain art when my first teacher opened my eyes to the beauty of painted flowers. I was instantly addicted to painting. I wanted to learn more and more and more. As I attended more classes, I discovered that porcelain painters belong to organizations through which members can meet other student artists like me and also learn from talented teachers from across the country and around the world. I joined the Omaha China Painters in Nebraska, the Brush and Palette Club in Iowa, the World Organization of China Painters in Nebraska and Iowa, and the International Porcelain Artists and Teachers organization.

I found such a joy in the world of porcelain art, that I committed myself completely in an effort to make up for all the years I had longed to paint. In 2012, I attended my first art school at the World Organization of China Painters Art Institute in Oklahoma City where I met Artist, Cindy Warren. Also in 2012, I attended the Midwest Porcelain Art School in Independence, MO, and studied with Ellen Wilson Pruitt. In 2013, I increased my artistic endeavors, taking classes with Alzora Zaremba at the Midwest Porcelain Art School in Independence, MO; Andrew Orr at the Upper Midwest Porcelain Art School in Galena, IL; San Do at the Peggy Adams Studio in Hamilton, MO; and Mary Ashcroft at the Indiana Porcelain Art School in Indianapolis, IN.
Recently I have opened my own porcelain art studio, A Painter's Collection Studio. It is available to any painters in the area who would like to paint together. On the average, 10 to 12 painters drop in each week. A Painter's Collection Studio also offers for purchase an infinite variety of quality blank porcelain pieces which are obtained from estates in locations as widespread as Florida, Oregon, Wisconsin, Iowa, Missouri, Colorado, and Illinois. When I realized there is such an enthusiastic group of porcelain painters in the Nebraska and Iowa area, I knew we needed a center which would supply blank porcelain, paint, and other artists' supplies at reasonable prices. Here at A Painter's Collection Studio, porcelain painters can find the supplies they need.
I also realize that there is a great demand among painters for classes that help artists improve their skills and learn new techniques. Here, at my studio, I am constantly scheduling guest artists to teach 2 to 4 day seminars at prices the average painter can afford. Among the best known porcelain artists who have already taught at my studio are Paula White (NM), Jane Wright (IA), Kathy Lewis (IA), Vida Klocke (ND), Marty Hill (MO), Celee Evans (CA), Mary Ashcroft (MI), Nancy Bergman (MN), Diane Schroeder (WI), world renowned architecture painter Mary Gosden (NY),
and world renowned portrait painter San Do (FL and Thailand).
With the launch of my web site, the successful completion of my first porcelain art school at Arbor Hall during the first week of November in 2013, and the completion of an even more successful porcelain art school during the first week of November in 2014, my life as an artist has come full circle. For the 2013 school, I booked such famous artists as Mary Ashcroft (MI), Stephen Hayes (FL), Cookie Barton (OR), Nancy Fisher (FL), and Nancy Bergman (MN). For the 2014 school, I booked nationally renowned artists Randy Wollet (WI), Thelma Ingram (OK), Marty Hill (MO), and Nancy Fisher (FL), as well as world renowned painters Mary Gosden (NY), and Paula Collins (FL). The painters who attended the schools responded favorably and still keep in contact. My web site at
www.apainterscollection.com
lists those who will teach in 2015.
Today from their vantage point in heaven, my parents are most likely affirming that they knew best all along. They prepared me to establish Arbor Hall so that I would have a place to conduct my porcelain art school, and they prepared me to establish A Painter's Collection Studio where I can develop with my friends as an artist and a teacher. Today I have come to the conclusion that I will always live in a world of green, but I will always sprout up purple, and my parents will still be looking down and guiding me on. . . . in art.
Joni VanDyke
---